7 of The Best Greek Islands for Foodies
The Greek islands are mostly known for their breathtaking beaches, historic ruins and white-washed little houses, but there's so much more to this captivating destination. For foodies from all around the world, the Greek islands offer an incredible culinary experience steeped in tradition and local specialties that will delight your taste buds. Join us as we present the top seven Greek Islands to visit for a unique gastronomic adventure.
7 of the best Greek islands for foodies to visit
We have gathered some of the best islands in Greece regarding their culinary tradition. However, it's important to keep in mind that all of them offer a unique experience, so if you are a true foodie at heart, try visiting as many as you can and decide for yourself which one you like best!
Sifnos – A small island with a great gastronomic tradition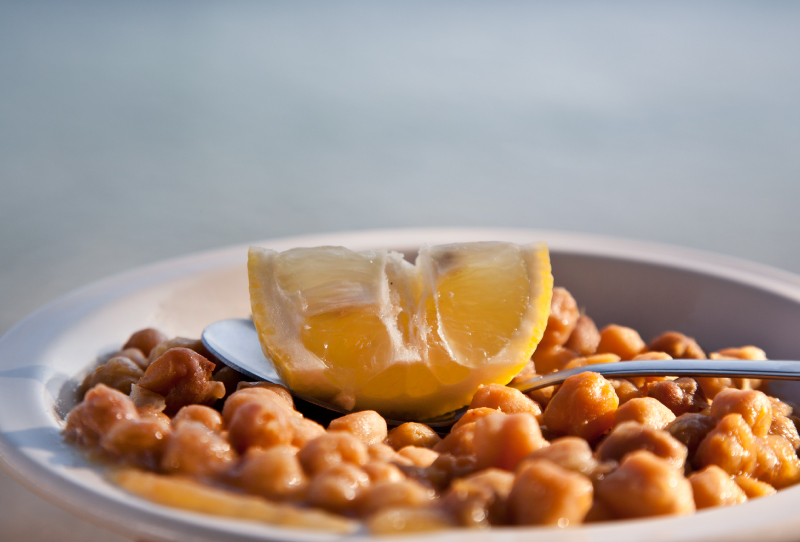 Sifnos is a small island situated in the Cyclades and what lacks in size it makes up for its long culinary tradition. It is the birthplace of Nikolas Tselemedes after all, probably the first known chef in modern Greece who created the first cookbook that became extremely popular and you can still find it today in every household.
Sifnos cuisine is simple but absolutely delicious since it's based on fresh produce from the island itself. Vegetables and legumes have a very strong presence in many local dishes, accompanied by meat and fish (it is a Greek island after all) and most dishes are slowly cooked inside wood ovens using ceramic utensils. That's the secret behind the explosion of flavours in many dishes from Sifnos!
Here, you can check more about the recipes and the food in Sifnos.
What you should definitely try:
Revithada (chickpea stew)
Mastelo (oven baked meat dish)
Melopita (a dessert made with honey and cheese)
Manoura (cheese)
Crete – The epitome of the Mediterranean diet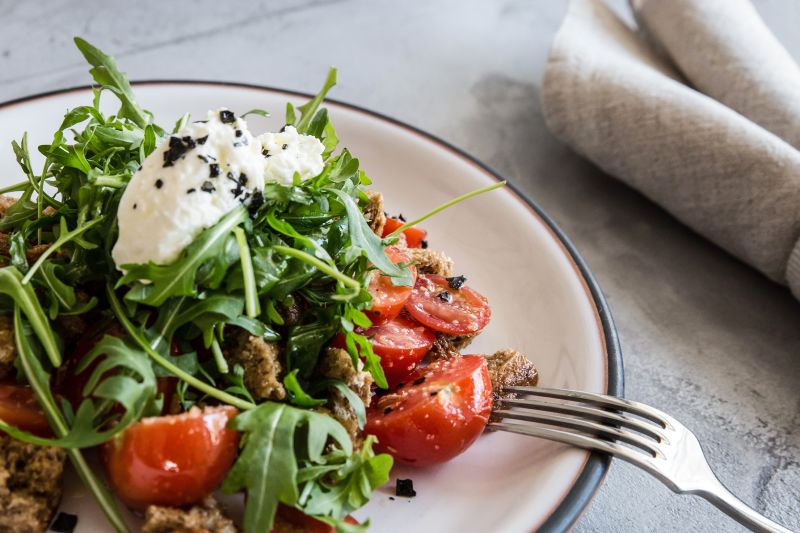 The largest of the Greek Islands, Crete, is a food lover's paradise and it is considered the birthplace (alongside Southern Italy) of the Mediterranean cuisine and diet in general. Crete is one of the largest producers of virgin olive oil in Greece and has a vast production of fruits, vegetables, and livestock that serve as ingredients in many of its traditional dishes. It's safe to say that all those ingredients that are grown and nourished under the virgin Cretan soil and sun, are one of the reasons why Cretan food is so tasty and healthy at the same time.
In Crete, you won't find any common dishes that are also available all over Greece, however, they're made using simple ingredients. You should expect a lot of meat dishes that are slowly cooked with strong, aromatic herbs, delicious pies that are created using a large range of different cheeses, alongside salads with barley rusks and complementary small "mezedes". You should also keep in mind that in between your meals, you'll be washing everything down by drinking "Raki"!
What you should definitely try:
Dakos (similar to a Greek salad but it also includes rusks)
Lamb with Stamnagathi
Gamopilafo (a rice dish that is traditionally offered at Cretan weddings)
Apaki (cured meat)
Hohlioi (snails)
Raki (alcoholic drink)
Naxos – Cycladic gastronomy with great raw materials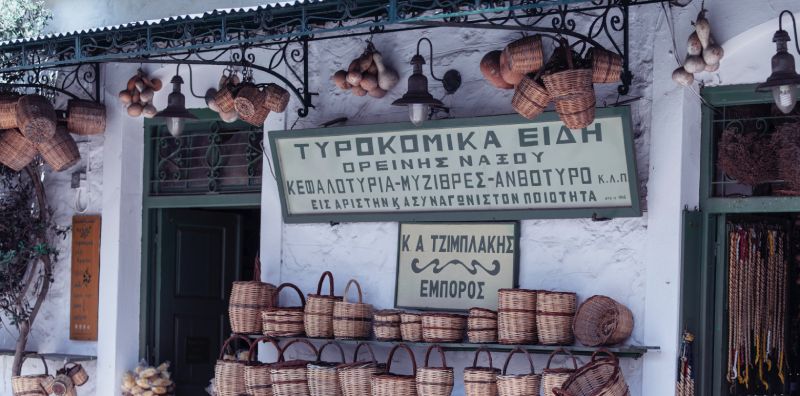 Naxos is the largest of the Cyclades islands and it is characterized by a unique cuisine that combines traditional Cycladic gastronomy with the use of great local raw materials. It's also worth mentioning that Naxos has its own cheese production, it is one of the largest producers of agricultural products in Cyclades and it has a large meat production of sheep and cattle. This means that the vast majority of the dishes that you're going to taste are created using local ingredients.
Food in Naxos is very straightforward, meaning that you won't find any complicated dishes. However, you will experience strong and rich flavours that are only possible with the use of fine, local materials.
What you should definitely try:
Naxos gruyere
Arseniko (cheese)
Naxos fried potatoes
Gouna (fish)
Zamboni (a lot simillar to Prosciutto)
Santorini – Volcanic tastes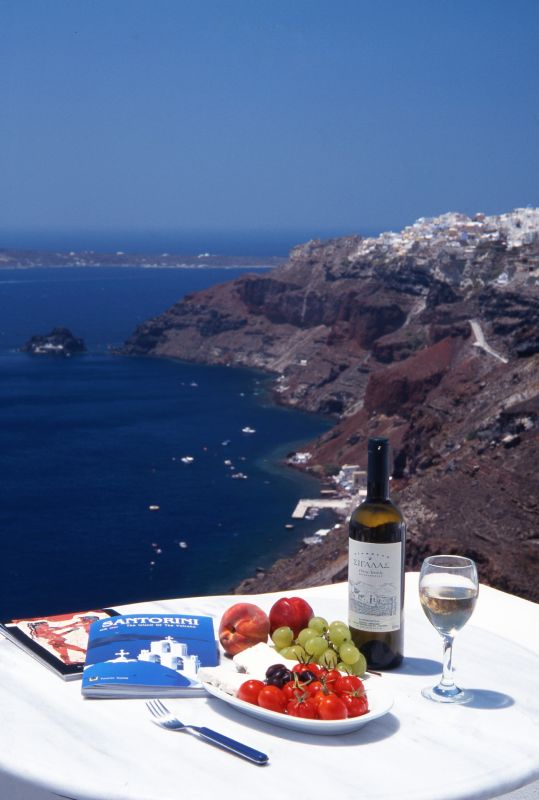 Santorini, known for its breathtaking sunsets and white-washed buildings, is also a foodie destination. The volcanic soil produces some of the best cherry tomatoes in Greece, which are the star ingredient in the famous Tomatokeftedes (tomato fritters). The fresh seafood is to die for, and the vineyards that dot the island are well known for producing some of the finest wines in Greece. So, wine lovers, don't forget to end your day with a glass of the refreshing sweet Vinsanto wine!
What you should definitely try:
Fava of Santorini (split peas)
Vinsanto wine
Tomatokeftedes
Sfougato (cheese)
Corfu – A taste of the Ionian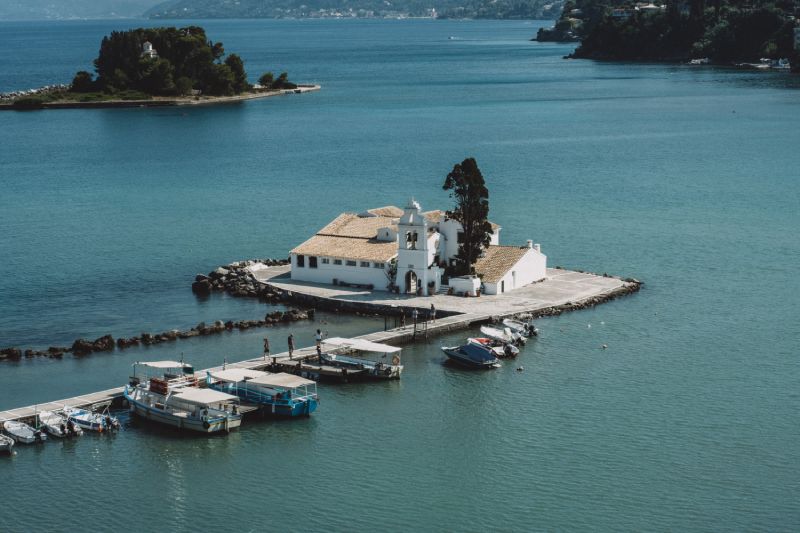 Situated at the northern tip of the Ionian Sea, Corfu Island is the largest in the Ionian chain and boasts a distinctive gastronomical scene that entices tourists from all corners of the globe. Since the island was under Venetian and British rule at different times in history, the cuisine is much different from the rest of the Greek Islands.
Prepare for a food adventure that will take you through some of the traditional Greek cuisine, while at the same time allowing you to explore local dishes with an Italian touch. Some of the most famous dishes from Corfu are pastitsada (pasta with beef or rooster), sofrito (fried veal with garlic and white wine sauce) and bourdeto (fish with spicy red sauce).
What you should definitely try:
Pastitsada
Sofrito
Bourdeto
Stoufado
Porpetes (meat balls with red sauce)
Koum kouat (dessert)
Chios – It's not just the Mastiha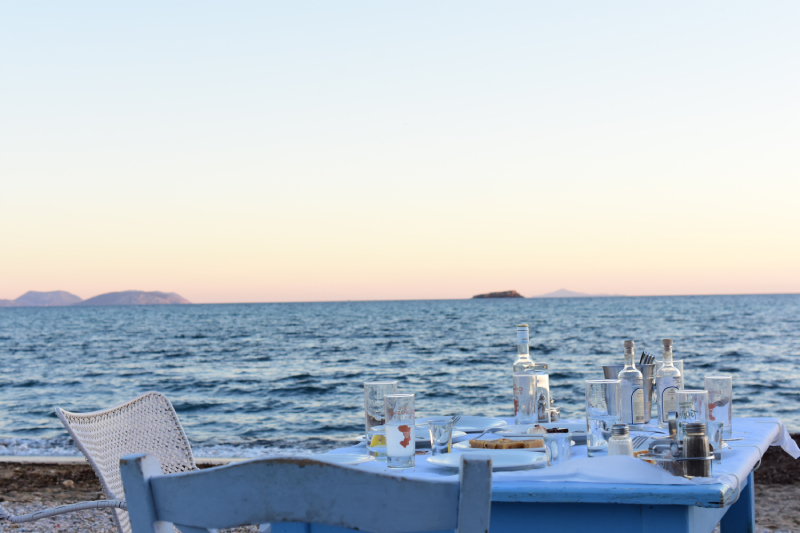 Chios is located at the east of the Aegean Sea and is the fifth largest of the Greek Islands. It has a strong culinary presence from its famous Mastiha, a unique liqueur made out of the sap of the mastic tree. However, Chios brings a lot more to the table since it has a large production of agricultural products, local cheeses and of course the famous ouzo.
What you should definitely try:
Mastiha liqueur
Mastelo (cheese)
Masourakia (dessert)
Lesvos – Delicate seafood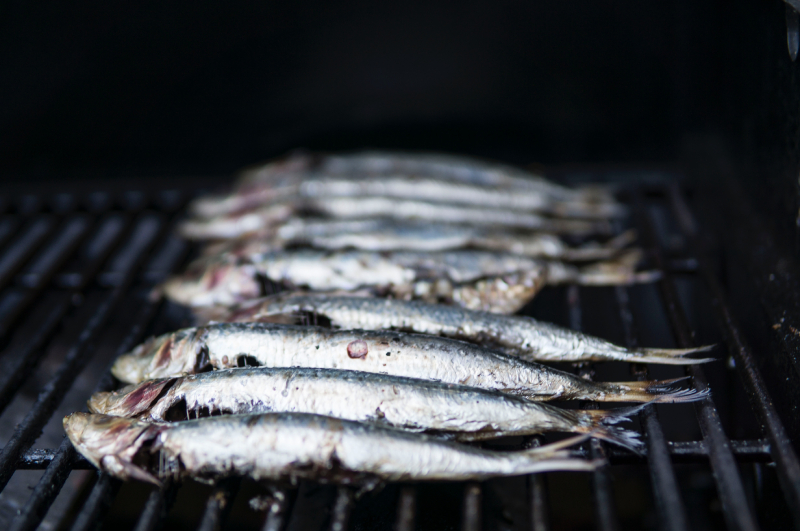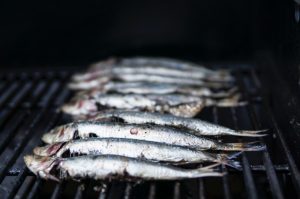 Located at the eastern Aegean Sea, just a few hours from Chios, Lesvos really stands out for its seafood dishes. With over 350 kilometers of shoreline, the island has access to an abundance of fresh seafood that is used in a variety of delicious recipes. Notable specialties include lemon roasted cod, grilled squid with garlic-parsley sauce and mussels cooked in white wine.
Lesvos also has a large variety of cheese products such as Ladotiri, feta and mizithra. With Chios, they are considered two of the best producers of ouzo in Greece, so don't miss the chance of trying the famous ouzo from Plomari!
Be sure to mark your calendars if you're planning a trip to the island in July! The Lesvos Food Festival is not to be missed and will be taking place from the 16th to the 23rd of that month.
What you should definitely try:
Grilled Sardines with tomatoes
Ouzo from Plomari
Octopus marinated in vinegar
Fried zucchini flowers
Ladotiri
I want to have the best culinary experience. Which Greek island should I visit first?
The decision is entirely up to you! Each island boasts its own distinctive dishes and tastes that are sure to please. For an authentic taste of Mediterranean cuisine, the island of Crete is your best option. If you're craving a delicious sampling of Cycladic cuisine, consider exploring the culinary delights of Sifnos, Naxos, or Santorini. Alternatively, if you're seeking a more unconventional palate, the Ionian sea area is home to some unique and exciting flavours, and Corfu should unquestionably be your go-to destination.
If you are a true foodie at heart, always searching for something new to try, our recommendation is to embark on a Greek island hopping adventure to fully explore the varied culinary offerings of the Greek islands. Experience the diverse and delicious cuisine that each island has to offer.
Bon voyage!