Best Greek Islands for Couples
The Greek islands have been the epitome of romantic escapades for couples for many years. But with around 227 inhabited islands to choose from, it can be a daunting task to decide which one would make for the perfect trip. Fear not! In this article, we have carefully curated the 10 best destinations in the Greek islands that provide the ideal blend of romance, beauty, and privacy for couples seeking to bask in each other's company. From the stunningly beautiful island of Santorini to the lesser-known island of Hydra, this list has something to offer for every type of couple. So pack your bags and prepare for a romantic journey through the breathtakingly gorgeous Greek islands.
Sifnos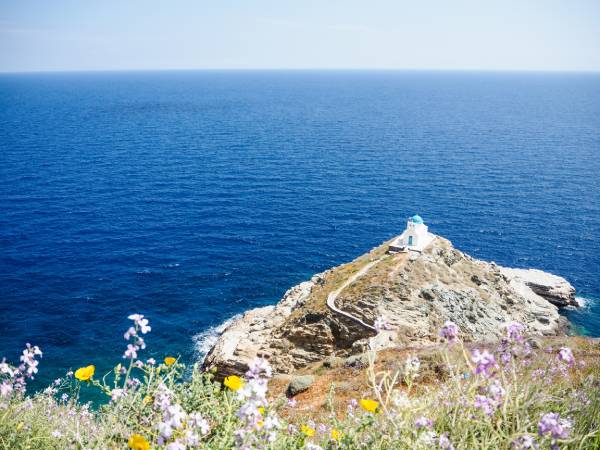 Why it's on the list
Apart from the fact that for us, it is the obvious choice, Sifnos, located in Cyclades, is the quintessential Greek island that offers an ideal romantic getaway for couples seeking an idyllic holiday. Renowned for its unspoiled beaches, picturesque villages, and welcoming locals – this island is the embodiment of the Greek vacation experience.
The island exudes sophistication with its white-washed buildings, blue-roofed churches, and narrow cobblestone streets dotted with quaint cafes and restaurants. Surrounded by amazing beaches, couples can indulge in an array of water sports, including swimming, snorkeling, and paddle boarding. Moreover, the island boasts a rich culinary scene that showcases artful dishes made with fresh, local ingredients. From delectable seafood and traditional Greek favourites to international cuisine, Sifnos entices visitors on a gastronomic journey.
Whether one chooses to take a leisurely stroll along the island's scenic walking trails, visit ancient landmarks, or simply enjoy a laid back day on the beach, Sifnos offers a unique blend of culture and relaxation. So, if you're looking for a charming and tranquil island destination that will enhance your relationship, Sifnos is the ultimate choice for a couple's holiday.
Things to do with your loved ones
Looking for more options? Keep on reading!
Milos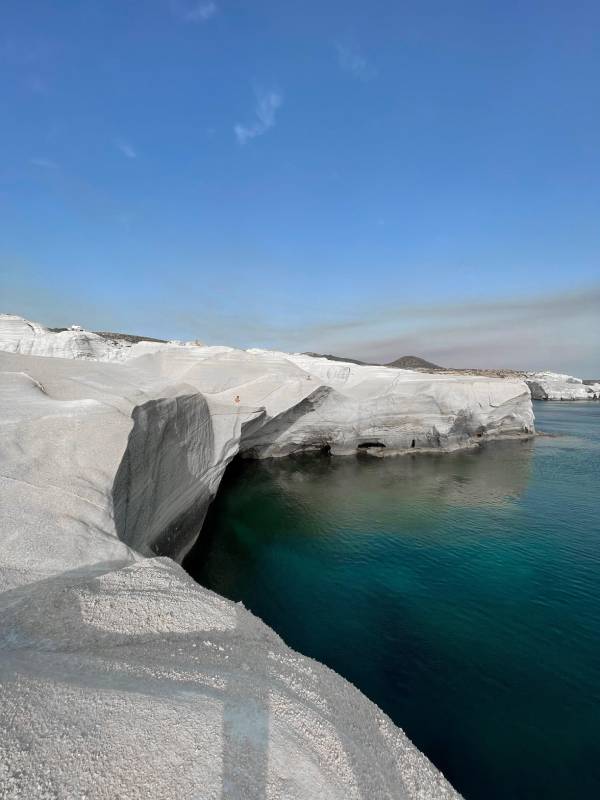 Why it's on the list
Nestled in the south-western Aegean Sea, Milos has become a hotbed for couple's holidays in Greece. Known for its serene beaches, vibrant architecture, and unique natural formations, Milos offers a one-of-a-kind romantic experience that cannot be found anywhere else in Greece. Home to over 70 pristine beaches, Milos provides couples with the perfect escape from the bustling cities, allowing them to indulge in the tranquil and breathtaking atmosphere that characterizes the island.
Unlike some of its more crowded and commercial neighbors, Milos has managed to preserve its traditional Aegean architecture, and its gastronomic scene is as fresh and authentic as it gets. Whether you prefer a candlelit dinner at a seaside taverna, a picnic on a secluded beach, or a hike to some of the island's hidden sights, such as the catacombs or the abandoned sulfur mines, Milos has something for every couple's taste. From the charming stone-built houses of Klima to the cosmopolitan atmosphere of Adamas, Milos is the perfect destination for those who want to indulge in the ultimate Greek island experience, away from the crowds and the clichés.
Things to do with your loved ones
Visit Sarakiniko Beach
Book a day trip with a sailing yacht
Visit the fishing villages of Klima and Mandrakia
Santorini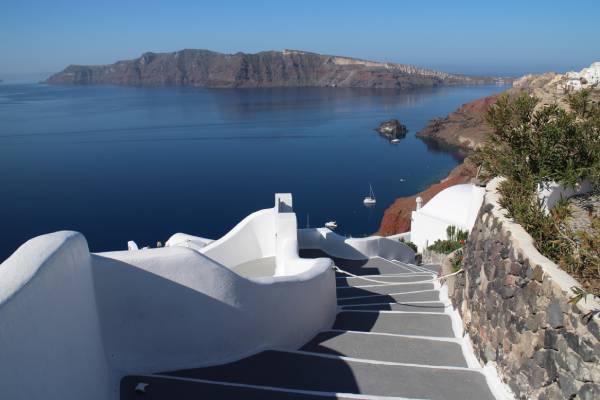 Why it's on the list
Santorini is one of the most popular islands in Greece and attracts countless vacationers every year. It is considered an ideal destination for couples looking to spend a romantic holiday since the island's stunning natural beauty, white-washed buildings, and gorgeous sunset views are some of the best in Greece.
Santorini is also known for offering travellers exceptional amenities and world-class service. Couples can enjoy the island's gorgeous beaches, explore ancient ruins, or hike along the island's winding cobblestone streets. There are also plenty of opportunities for water sports and other outdoor activities. The island is also renowned for its mouthwatering cuisine and fine wines, which means visitors can indulge in the best of Greek gastronomy.
Couples seeking luxurious accommodation will be spoilt for choice, with numerous five-star hotels, resorts, and private villas dotting the island's coastline and villages. Overall, Santorini provides a perfect holiday destination for couples looking to get away from the stresses of everyday life and spend quality time together in one of the world's most beautiful and romantic locations.
Things to do with your loved ones
Watch the sunset in Oia
Enjoy a meal for two at a fine dining restaurant
Book a wine-tasting experience
Crete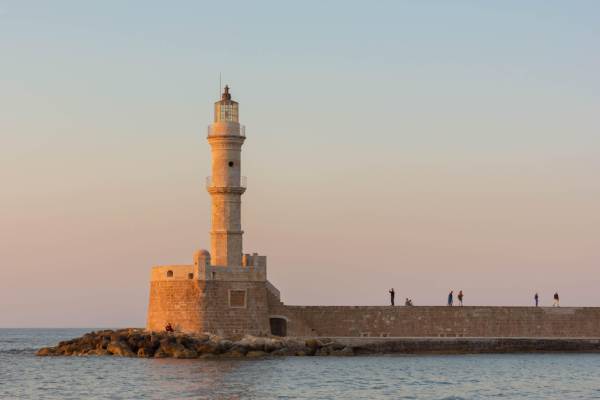 Why it's on the list
If you're looking for an idyllic escape to Greece with your significant other, Crete is the perfect island for a romantic holiday. Being the largest island in Greece, Crete boasts stunning coasts, pristine beaches, and picturesque villages that are sure to charm you and your partner. The island is renowned for its rich history and culture, with ancient ruins and fortresses scattered throughout.
Its cuisine is also a highlight, with traditional dishes made with fresh, local ingredients bursting with flavor. The island offers ample opportunities for couples seeking adventure, from hiking and cycling to water sports and boat trips, but if you prefer a more relaxed holiday, the island's idyllic beaches, and breathtaking landscapes make it an ideal destination for those who prefer to unwind and bask in the sunshine. Crete has something for everyone, whether you're seeking adventure or relaxation, and it's no wonder why it's considered one of the best islands for couples' holidays in Greece.
Things to do with your loved ones
Enjoy a day at Balos Beach
Take a cooking lesson and discover the Cretan cuisine
Stroll into the old town of Chania
Mykonos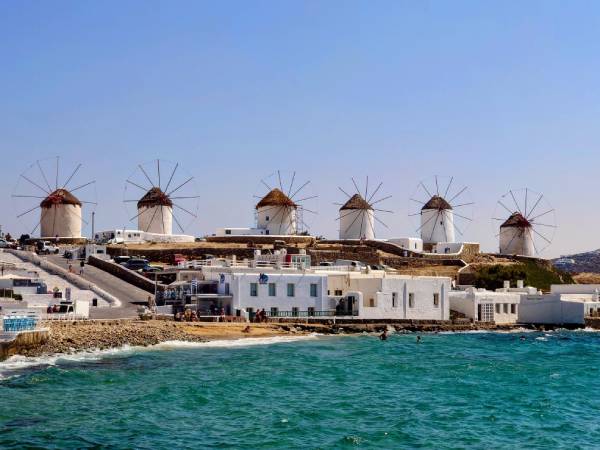 Why it's on the list
Mykonos has established itself as a hot spot for couples who are looking for a perfect blend of vibrant nightlife and luxurious vacations. With its magnificent beaches, picturesque landscapes, and a bustling town filled with trendy bars and clubs, this charming party island has something to offer for everyone.
Boasting a selection of five-star resorts that cater to all your romantic needs, couples can enjoy private jacuzzis, candlelit dinners, and exceptional spa treatments after long nights of partying in the town. It's no surprise that Mykonos has become the ultimate destination for couples who want to indulge in the finer things in life without compromising on entertainment and excitement.
Things to do with your loved ones
Party, party, party
Stroll into the famous Matoyiannia street
Spoil yourselves with a luxury shopping therapy
Corfu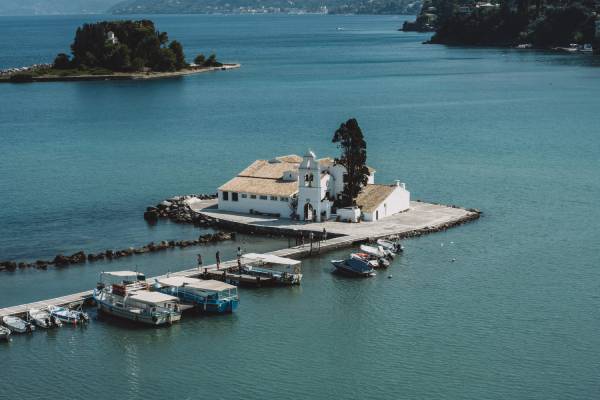 Why it's on the list
Nestled in the azure waters of the Ionian Sea, Corfu's timeless elegance certainly puts it in a good position as one of the most romantic Greek islands.
With its glittering Venetian architecture, lush green valleys, and sandy beaches lapped by crystal-clear waters, this island brims with charm, culture, and adventure. From strolling along the charming cobbled streets of Corfu town, exploring the verdant countryside on a bike ride, to taking a sunset cruise on a traditional Greek boat, there will be plenty of opportunities to create unforgettable moments with your loved one.
Moreover, the island boasts a buzzing nightlife, with many bars and restaurants where you can sample delicious local cuisine and sip on refreshing cocktails while soaking up the island's enchanting vibes. But perhaps what sets Corfu apart from other Greek islands is its rich history, evident in the island's numerous landmarks, including the UNESCO-listed Old Town and the imposing Venetian castle. For couples seeking an escape that combines romance, adventure, and culture, there's no better choice than the charming and idyllic island of Corfu.
Things to do with your loved ones
Visit the region of Palaiokastritsa
Visit Canal d'Amour Beach
Take a free walking tour and discover Corfu's historic center
Koufonisia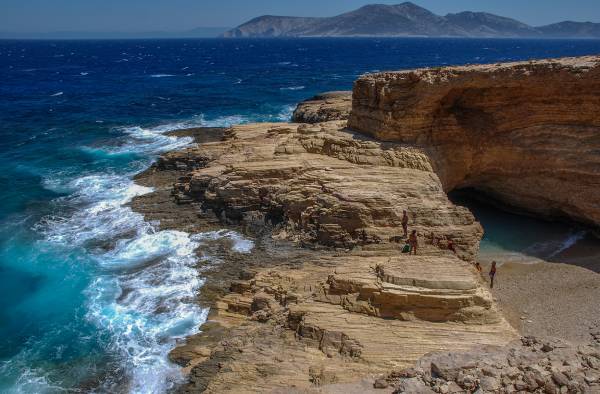 Why it's on the list
Koufonisia, a small group of islands in the Cyclades, has been steadily growing in popularity as a romantic getaway destination for couples looking for peaceful and laid-back vacations. A tranquil island with amazing, turquoise waters, Koufonisia exudes a peaceful aura that is ideal for a relaxing holiday.
The island is famous for its unspoiled beaches and slow-paced way of life, making it an ideal destination for lovebirds looking to escape everyday life. Despite its limited options for dining and nightlife, the island's small size provides an unrivaled sense of intimacy and seclusion. The peaceful and serene atmosphere is perfect for unwinding and relaxing, making it an excellent destination for a chill holiday. The lack of distractions also enables couples to focus on each other, strengthening their bonds and deepening their connection.
Things to do with your loved ones
Do nothing. Stay all day at the beach!
Skopelos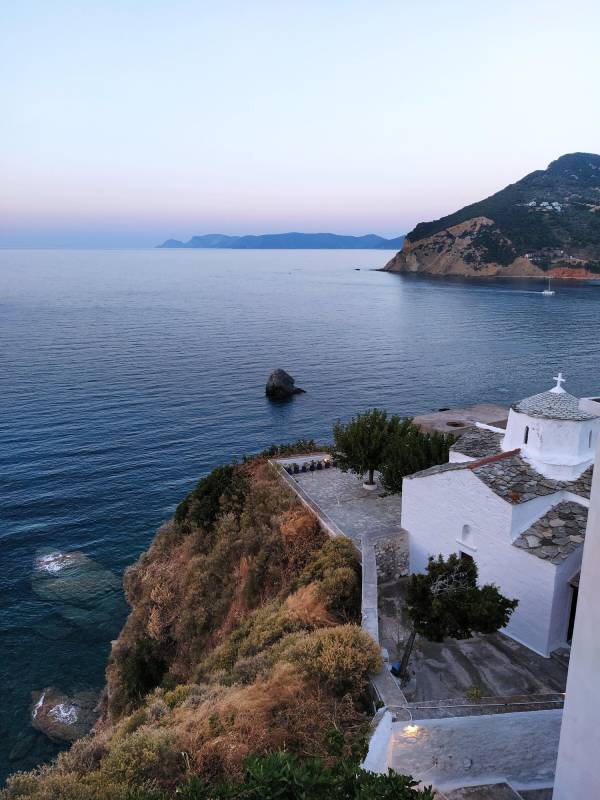 Why it's on the list
Located in the Aegean Sea lies the picturesque island of Skopelos, a gem that is one of the best-kept secrets of Greece, especially for couples looking for a romantic escape.
The lush green hills and olive groves give Skopelos an unbeatable charm, and its sparkling blue waters are perfect for swimming and snorkeling. What makes Skopelos stand out as a top destination is its peaceful and laid-back lifestyle, which will allow couples to unwind and focus on their relationship. Adding to the experience is the absence of mass tourism, giving visitors a chance to enjoy an authentic Greek holiday. Skopelos is a perfect destination for couples who desire a soothing and rejuvenating holiday in an unspoiled and tranquil environment.
Things to do with your loved ones
Book a diving lesson
Enjoy a hike on one of the island's amazing routes
Visit the filming locations of Mamma Mia
Hydra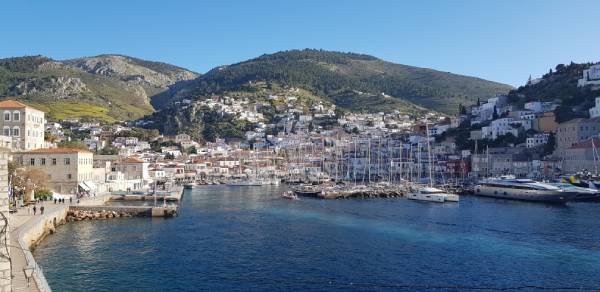 Why it's on the list
Hydra is a popular destination for couples who seek a unique and alternative holiday experience. This idyllic island, located in the Aegean Sea, offers many features that set it apart from other Greek destinations. One of the most remarkable things about Hydra is its car ban – only donkeys, bicycles, and boats are allowed! This eco-conscious approach to island life is both refreshing and romantic.
The island's bohemian vibe is also a drawcard for couples. Its atmosphere is relaxed, artsy, and intimate, creating a perfect ambiance for those in love with each other and the world around them. Moreover, Hydra is conveniently located near Athens, making it an easily accessible destination for those who want to explore more of Greece. In short, if you are searching for an off-the-beaten-path, eco-friendly, and enchanting travel spot for your next couples' holiday, Hydra should be at the top of your list.
Things to do with your loved ones
Take a horse riding excursion
Enjoy a romantic dinner at Hydra's harbor
Go on a boat cruise to the neighboring island of Spetses
Symi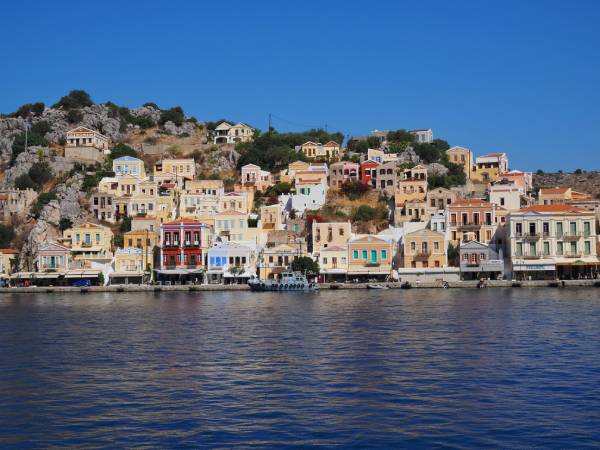 Why it's on the list
Symi, the charming Dodecanese Island located right off the coast of Turkey, has quickly become a top alternative destination for couples seeking a different kind of romantic getaway. This picturesque island offers a serene escape that transports visitors into a world of tradition and authenticity.
Unlike the popular and bustling islands of Mykonos and Santorini, Symi has a more subdued atmosphere that is perfect for couples seeking romance and solitude. The island's unique architecture and old-world charm are sure to captivate and enchant visitors. Here, time seems to move at a slower pace, allowing couples to savor every moment along with the serenity of summer. Whether exploring the island's narrow alleyways, indulging in delicious local cuisine, or simply lounging on one of the island's many beaches, Symi is a top choice for couples seeking a truly romantic and unforgettable experience.
Things to do with your loved ones
Enjoy a glass of Ouzo at the island's harbor
Explore some of the island's secluded beaches on a boat
Enjoy carefree moments with your loved ones!
The Best Options for Different Types of Couples
Best Greek Islands for Beaches
Crete
Zakynthos
Kefalonia
Naxos
Lefkada
Best Greek Islands for Party Goers
Mykonos
Ios
Santorini
Paros
Skiathos
Best Greek Islands for an Alternative Experience
Crete
Koufonisia
Sifnos
Symi
Ikaria
Best Greek Islands for Young Couples
Ios
Skiathos
Zakynthos
Paros
Amorgos
Best Greek Islands for Older Couples
Alonissos
Skopelos
Samos
Rhodes
Kos
Best Greek Islands for Gay Couples
Mykonos
Andros
Ios
Folegandros
Skiathos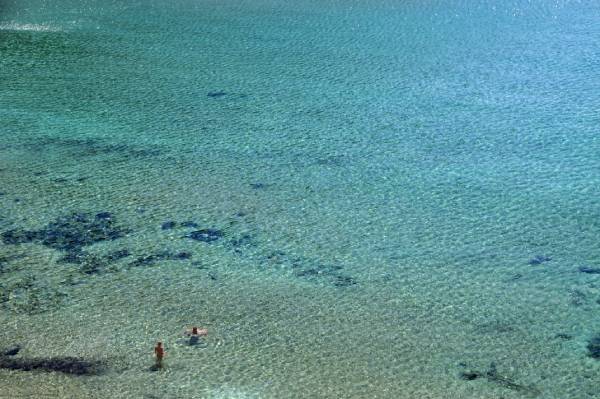 5 Tips for Planning the Perfect Couples Holiday to Greek Islands
Plan your trip ahead of time: Greece is a popular tourist destination, and during peak season it can be hard to find available accommodation, flights, or tours. To avoid disappointment, plan your trip well in advance and book your flights, hotels, and activities as soon as possible.
Pack light, comfortable clothing: Greek summers can be extremely hot, and you'll be doing a lot of walking on uneven terrain. Make sure to pack light, comfortable clothing, and appropriate footwear. Also, don't forget to bring a sun hat, sunglasses, and sun cream.
Be prepared for transportation: While Greece has public transportation, it can be limited and unreliable, especially on smaller islands. If you plan to explore more remote areas, make sure to rent a car or a scooter to get around comfortably and efficiently.
Visit during shoulder season: If you're looking to save money and avoid crowds, consider visiting the Greek Islands during shoulder season (late April to early June or September to October). The weather is still warm, and the prices are significantly lower than peak season.
Don't forget the sunscreen: The Greek sun can be intense, even during shoulder season. Protect your skin and avoid sunburn by wearing sunscreen with high SPF.
Don't Postpone this Amazing Experience
The Greek islands are one of the most stunning destinations to explore with your significant other. Imagine gazing at the sea while holding hands and indulging in the serenity of the moment. The warm weather and gorgeous beaches aren't the only reasons to visit Greece, as each island has its charm and unique character.
Spectacular sunsets, dreamy cocktails, and delicious Greek cuisine are just some of the other experiences couples can enjoy while on the islands. Escape your daily routine and create unforgettable memories that you'll both forever cherish. Visiting the Greek islands is undoubtedly a one-of-a-kind experience that should be on every couple's bucket list.
So, what are you waiting for?