Where are we walking to today?
It is a common secret that Sifnos is a paradise for walkers. Ancient trails crisscross the island and have been used by centuries by locals. For visitors, walking these paths lined by dry stone walls that have been there forever hid many pleasant suprises: unforgettable vistas over the Aegean Sea, discovering a deserted whitewashed church, ending up in an isolated cove and plunging in crystal clear waters.
During the last years, trekking was an activity that attracted more and more attention. The variety of paths in terms of length, difficulty and sights along the way offered every avid trekker a tailor made challenge hard to resist. Equipped with fresh fruit and water, walking was one of the best ways to experience Sifnos. A map of paths was readily available and with a little effort, it was easy to explore less frequented spots of the island.
The popularity of trekking encouraged local authorities to promote this centuries old heritage and invest in providing a world class network of way-marked paths for the pleasure of Sifnos visitors. In 2015, the Municipality of Sifnos started a project that changed trekking on Sifnos forever. In collaboration with Paths of Greece, experts in the development of hiking trails, they set off to improve the trails network of Sifnos.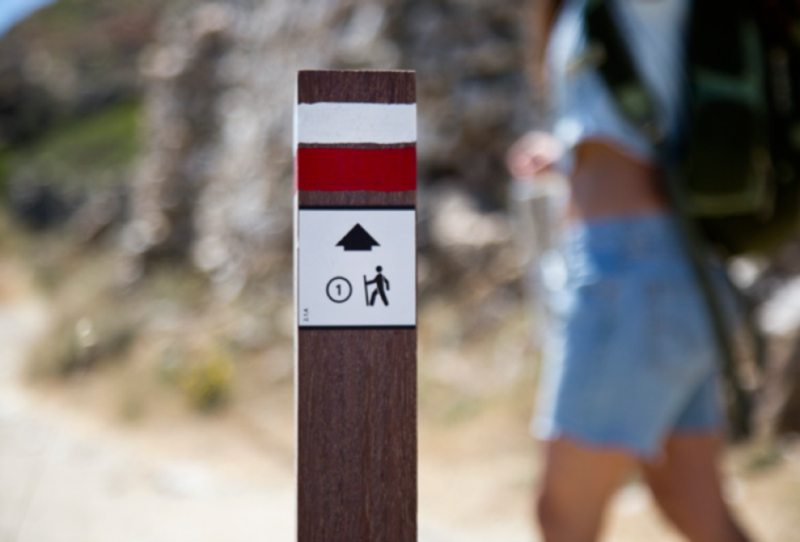 The old way-marks have been removed and new ones have been placed, thus harmonising the way-marking of the network. Sifnos now has more than 100km of professionally designed and way-marked trails, one of the largest trail networks of the Aegean. The difficulty level of each trail has been calculated on a 5-level scale, using the "IBP index" system of the Fédération Française de Randonnée Pédestre. In total 19 beautiful trails are at your disposal offering you the opportunity to discover the natural and cultural beauty of our island.
Most importantly, all information is now available on www.sifnostrails.com. The website provides a digital guide for each of the 19 trails with maps and detailed descriptions, information on way-marking and tips for hiking on Sifnos. You may also download the Sifnos Trails app to have this information at hand (currently only available for android devices on Google Play).
So are you ready for some walking? Watch the video and we are sure you will be packing your trekking shoes before coming to Sifnos, especially if you decide to visit the island during spring or autumn. The mild temperatures and the beauty of nature make the experience unique. Plus during these mellow seasons you will enjoy the island at its best – less people, less busy beaches, great food. The Verina team is at your services until the beginning of October. We will be waiting for you!